Deep Night Season 10: Sarah Sherman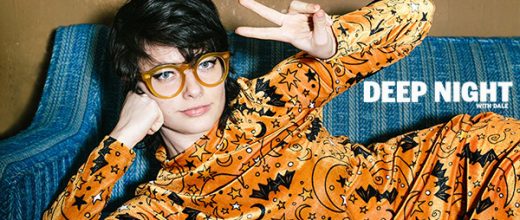 Dale slips into his own glittering animal print leotard for a conversation with Chicago's comedy sensation, Sarah Sherman (aka Sarah Squirm). Dale caught-up with Sarah during a recent mini-tour across the lands east of Lake Michigan and right before a flurry of New York appearances. The two talk about uncomfortable body stuff, the history of meat performances, sneaky trips to the city by teenagers from Long Island, and connections between noise bands and stand up comedy. Sarah's show Hell Trap Nightmare is coming to New York in April, and it's well worth checking out. Dale's already looking for Easter candy, so he starts the show by leading the listener on a guided meditation of a local convenience store. OPEN YOUR PORTALS!
Podcast: Play in new window | Download (Duration: 46:12 — 34.4MB)
Subscribe: Apple Podcasts | Android | Google Play | Stitcher | RSS
For more on Sarah visit her website: www.sarahsquirm.com. Helltrap Nightmare is April 20 at Baby's All Right. Tickets available here: https://www.ticketfly.com/event/1621720-helltrap-nightmare-dougie-brooklyn/.
Photo of Sarah in the original post by Matt Schwerin for the Chicago Reader.