Deep Night Season 10: Wendi Starling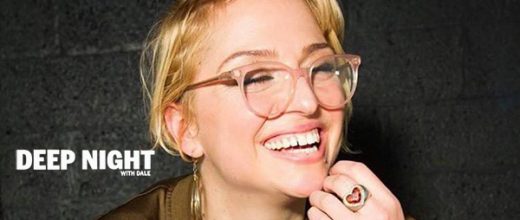 Dale brews some bathtub kombucha in preparation for a energizing conversation with comedian and fellow podcaster, Wendi Starling. Wendi is not known for holding back, so she and Dale get into some heavy business right from the get go. Suffering from allergies and recovering from a late night in a smoke-filled bar, Wendi traces her journey from hallucinatory, sleep deprived days growing up in Orange County to her current life pursuing comedy and other money making adventures in New York. The two talk candidly about being bi-polar, the ways podcasting has helped Wendi's stage sets, and how sex work is similar to managing the cheese counter at Whole Foods. Dale talks about his early exposure to the female form and recounts a recent interaction with a weird looking rodent.
Podcast: Play in new window | Download (Duration: 1:03:59 — 44.6MB)
Subscribe: Apple Podcasts | Android | Google Play | Stitcher | RSS
For more on Wendi – visit www.wendistarling.com or follow her on twitter @wendistarling. Tune into Wendi's podcasts The Oldest Profession and Jammerz on Apple Podcasts or wherever you enjoy such things.