Deep Night Season 10: Gas Station Vortex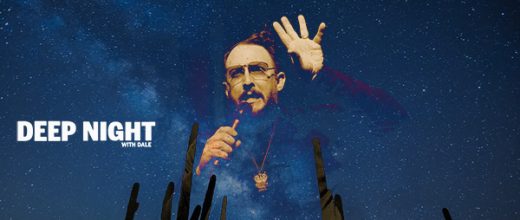 Dale comes face to face with a negative energy vortex thanks to a necessary stop at a gas station outside of Atlanta. In this solo episode, Dale is just back from helping his wife Galinda with her nationwide healing practice, and he recalls some of the awkward times he's had on the road dealing with the after-effects of cleansing rituals. He discovers a well-kept secret in Taos and realizes that shapeshifters must account for most of the Earth's population. Plus Dale offers some tips on how to make the most of a healing bath while on a tight budget and lends some deep night thoughts about the universe.
Podcast: Play in new window | Download (Duration: 20:01 — 19.4MB)
Subscribe: Apple Podcasts | Android | Google Play | Stitcher | RSS
Dale's hosting a special RSVP (Real Sexy Variety Party) at the Arlo Hotel in on Friday and Saturday March 9 & 10th – with burlesque, beatboxing, and ventriloquism on the bill. Tickets are still available for a very intimate evening in New York. Info here: https://www.eventbrite.com/e/rsvp-real-sexy-variety-party-tickets-42135194501. Then he gears up for another Deep Night with Dale Live at the Slipper Room. Weds, March 14th at 8pm – Dale's live with a great lineup of talented comedians. Info here: https://www.slipperroom.com/event/1652335-guest-event-deep-night-dale-new-york/.