Deep Night Casts Its Spell on San Francisco!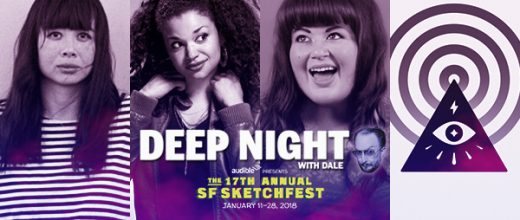 LADY WIZARDS AND GIFTED MAGICK USERS! Dale's opening up his portal to travel across the country to his old home of San Francisco for his fifth appearance at the venerable SF Sketchfest. And he is desperate to see you! The show is happening at the witching hour, 5:30pm – that special time between day and later in the day. He'll be presenting a wonderful live episode of the program in a cozy venue in the city's glamorous Tenderloin district. While he doesn't recommend visiting the bodega on the corner, he does suggest coming to the show – Saturday, January 13th, at 5:30pm at Piano Fight, 144 Taylor St. Not only will Dale be there in all his mystical glory (meaning a fresh turtleneck) – but he'll be visited by a talented group of comedians and occult investigators including superstar Michelle Buteau (Two Dope Queens, Key & Peele); Shewolfe and Beatrix, the hosts of the popular occult broadcast, Astral Projection Radio Hour (Bff.fm); and rising comedic powerhouse, Becky Braunstein (Bridgetown Comedy Festival, Hell Yes Festival). Plus we'll have music from the Bay Area's own Yea-Ming and The Rumours! Best of all – the show is FREE – but RSVPs are encouraged. You can do that here: https://sfsketchfest2018.sched.com/event/CzHL.
In advance of the show – we're offering a chance to get to know Dale's Deep Night SF guests – with some brief video clips of their work in the comedy and radio and television realms. Please enjoy, then charge your crystals and get to Piano Fight for Deep Night with Dale Live at SF Sketchfest.
Michelle Buteau handles this talk show host pretty well, let's see how she does when she returns to sit with Dale! Confession, Dale bought Harry's albums through Columbia House and enjoyed them!

Becky Braunstein hails from Alaska but now lives in comedy hotbed, Portland, Oregon. She and Dale did the Hell Yes Fest in New Orleans this past fall and had a terrific time of it. Get to know Becky in this comedy set:

Shewolfe and Beatrix are two witches who also host an internet radio program! HEY THAT SOUNDS FAMILIAR! They take on so many subjects that Dale is dying to find out more about from Ancient Egyptian curses to death rituals to cat magic! You can tune into their program here.
And hey now, it's Yea-Ming and The Rumours! They're going to be the Deep Night House Band for the hour – complementing the evening with their distinctive sound! Get into it!