Who Will Join Dale in the Deep Night 11/15?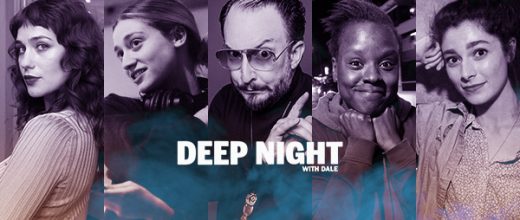 Dale invites you to step through the portal once more to join a brand new live episode of Deep Night with Dale. On Weds, November 15th, Dale returns to the glittering stage of the world famous Slipper Room in New York City. At 8pm, all energies converge for a conversation about the dark art of comedy with an otherworldly lineup of comedic and musical talents.
Dale is joined by actor and musician Lola Kirke (Mozart in the Jungle, Mistress America); musician named in the NY Times as one of the people making the best rock music today, Kiley Lotz, aka Petal (Run for Cover Records); comedian Wanjiko Eke (Cinderblock Comedy Festival, Witch Hunt); and comedian Sarah Lazarus (Eugene Mirman Comedy Festival, Brooklyn Comedy Festival). And of course the entire evening is scored by the fantastic cosmic sounds of Cornelius Loy on the theremin.
Get tickets now via this link and experience true joy:
https://www.slipperroom.com/event/1519644-guest-event-deep-night-dale-new-york/
But first – get to know Dale's Deep Night guests with a few video clips below.
Here's an intriguing peek into the interior spaces that musician and actor Lola Kirke inhabits. Dale has a lot of broken objects in his house, too.

As a bonus – here's a video for one of Lola's songs starring and directed by Jemima Kirke (who also happens to be her sister AND one of Dale's neighbors).

Kiley Lotz performs alone and with others under the name, Petal. Here's an official music video for the track Heaven.

A funny recent set from comedian Wanjiko Eke at the Cobra Club.

And there's literally too much funny stuff to capture from the brilliant Sarah Lazarus, but this tweet feels right to Dale. Click for more from her twitter timeline.

My goodness, want to hear a bit of what you're in for with a theremin as our house band? Here's a clip of the amazing Cornelius Loy playing a signature tune! It's just energy!!