Deep Night Season 10: Tim Barnes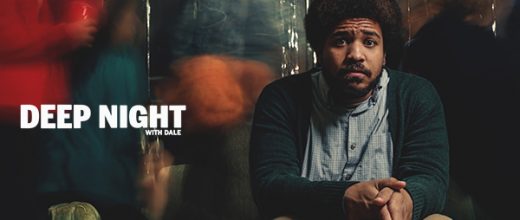 Dale sort of wishes he was hosting a breezy morning talk show in this week's episode of Deep Night, featuring comedian Tim Barnes. A great deal of this program is about physics, which is surprising because Dale is awful at physics and it's always disappointing to him how much of life is guided by the old every action has a reaction thing. Is that physics? Dale still doesn't know, but he does enjoy a lot of the actions of his guest, Tim Barnes who is getting a lot of great reactions from his audiences and podcast listeners. Tim shares some stories from the mean streets of Santa Barbara, identifies the best place to get pizza not-from-Chicago in Chicago, and explores the secret rhythms of terrific conversations. Plus Dale makes a phone call and offers some terrible coping strategies for loneliness. This week's hashtag is gourdwife.
Podcast: Play in new window | Download (Duration: 1:14:00 — 50.3MB)
Subscribe: Apple Podcasts | Android | Google Play | Stitcher | RSS
Be sure and visit Tim's website https://timbarnescomedy.com/ for upcoming shows and potential new podcast releases or events.
The next Deep Night with Dale Live is happening on Weds, November 15 at 8pm at The Slipper Room in NYC. Dale's guests will be Lola Kirke, Petal, Wanjiko Eke, and Sarah Lazarus. Music on the theremin from Cornelius Loy. Tickets are available now for $10: http://www.slipperroom.com/event/1519644-guest-event-deep-night-dale-new-york/. SEE YOU IN THE DEEP NIGHT.