Deep Night Season 10: Andrea Silenzi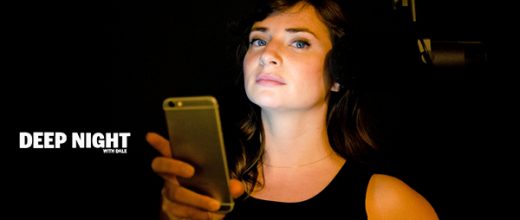 Dale swipes at the pulsing walls of the Deep Night in hopes of trying to understand what dating is like in the 21st Century. To help him out, Dale invites expert Andrea Silenzi, host of the dating podcast Why Oh Why, to walk him through it. Though it's been ages since Dale had to electronically select a mate, he finds that some of his old ideas still have merit and others as usual, are worthless. Andrea is in the throes of it all herself, so Dale tries to offer some perspective from his advanced age, but it seems that he might just not know the right words to say. Meanwhile, Andrea and Dale also discuss opening lines, dating types, ideal scenarios, and the role humor plays in the back and forth of a successful romance. Dale also reveals some secrets to dating in the Deep Night, where one can be anything and date anyone.
Podcast: Play in new window | Download (Duration: 1:01:31 — 43.2MB)
Subscribe: Apple Podcasts | Android | Google Play | Stitcher | RSS
Why Oh Why is a weekly podcast about relationships from Panoply. In each episode, Andrea Silenzi speaks with friends, experts, and guys in bars about where love and sex meets technology. The show tells the stories about relationships by blurring the lines between memoir, documentary, and fiction. Why Oh Why was named Best New Podcast of 2016 by The New York Times, NPR, Apple Podcasts, and Huffington Post. Prior to her work on that program, Andrea was the founding producer of The Gist with Mike Pesca. In her time there, The Gist was highlighted as a Best New Podcast by iTunes, named a Webby honoree, and was twice featured on the popular public radio show This American Life. You can listen and subscribe to both Why Oh Why and Deep Night on Apple Podcasts.