Who Will Join Dale in the Deep Night 9/20?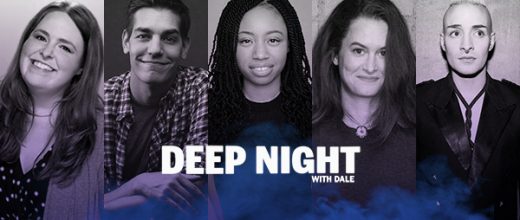 Dale welcomes you back to the Deep Night with a brand new live episode to kick off our epic tenth season. On Weds, September 20th, Dale returns live from the glittering stage of the world famous Slipper Room in New York City. At 8pm, all energies converge for a conversation about the dark art of comedy with an otherworldly lineup of comedic talents. With writers from SNL, Full Frontal, The President Show, and Las Culturistas, Dale gets into what it takes to embrace a challenging political/cultural moment with humor and integrity.
Dale is joined by actor/writer Kristen Bartlett (SNL, Difficult People); comedian Matt Rogers (Las Culturistas, Pop Roulette); comedian Rae Sanni (The President Show, Misandry Podcast); and Melinda Taub (Full Frontal w/Samantha Bee, Adam Ruins Everything). And of course the entire evening is scored by the fantastic cosmic sounds of Cornelius Loy on the theremin.
Get tickets now via this link and experience true joy: http://www.slipperroom.com/event/1519641-guest-event-deep-night-dale-new-york/
But first – get to know Dale's Deep Night Season 10 Live Premiere guests with a few video clips below. Featuring some of their work that has tickled your host.
First, the essential viewing that is Kristen Bartlett's Poor Comedians in A Car Getting Coffee. This episode features Will Hines and a gorgeous used Toyota.

Matt Rogers and Bowen Yang host the wildly popular podcast, Las Culturistas, which has become an absolute must subscribe on the Apple Podcast list. They recently hosted a titanic live episode featuring more than 50 comedians, where the catchphrase, "I don't think so, Honey!" was applied to everything from the issue with sponges to very specific family dynamics. Here's part one:

Rae Sanni is very very very funny. She was featured on the I Don't Think So Honey episode above – and also co-hosts her own insightful podcast, Misandry with Marcia and Rae. Get that into your podcast playlist and get hip to some important conversations! Here's Rae doing some stand up, which you should also try and see whenever possible.

A vintage UCB sketch written by Melinda Taub that speaks to Dale's recent experiences moving and assembling furniture. Also it's kinda spooky. PS – Melinda just won an Emmy for her work on Samantha Bee's Not the White House Correspondents Dinner television special! Congratulations, Melinda!