Deep Night Season 9: Live with Janine Brito, Joanna Rothkopf, Jamilah King, and Lily Herman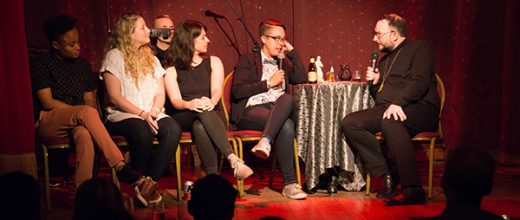 Dale celebrates the end of another season with a special all-politics edition of the program, co-presented with B.L.O.W. (Brooklyn Ladies of Winning the Vote). Recorded live at the Slipper Room in New York City before a packed house, Dale tries to understand what's going on in Washington, DC and what it means for the rest of us. To help him along, Dale assembles an all-star panel of writers and comedians who follow, report on, and provide context for the current administration and the strange times we live in. Comedian Janine Brito; Managing Editor of Jezebel, Joanna Rothkopf; Senior Staff Writer for Mic.com, Jamilah King; and Teen Vogue's Lily Herman join Dale for a lively and timely discussion about culture, feminism, resistance, and college pizza. With music throughout by thereminst, Cornelius Loy. The event benefits Brand New Congress, which aims to put progressive, non-party-machine candidates forward for public office. For more on Brand New Congress visit their website https://brandnewcongress.org. Look for the tenth season of Deep Night to begin in September, 2018.
Podcast: Play in new window | Download (Duration: 1:03:00 — 39.4MB)
Subscribe: Apple Podcasts | Android | Google Play | Stitcher | RSS
Thanks to all for a great season and to everyone who has tuned in or come out to the live shows to lend your support. Special thanks to B.L.O.W. for making this live season finale, such a memorable and exciting one.
Photo in original post by John Huntington.