Who Will Join Dale in the Deep Night 5/10?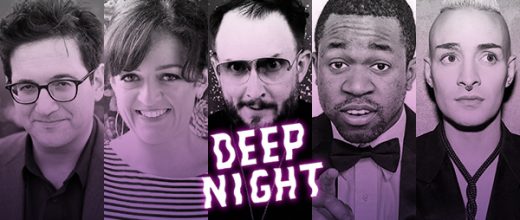 The ninth wondrous season of the program has almost reached its end, and we're celebrating with another live edition of the program at the world famous Slipper Room in NYC. On Weds, May 10th at 8pm, Dale will explore the legacy of late night TV and the challenges of hosting a successful talk show in this discussion with critic and New York Times columnist, Jason Zinoman. Jason's new book, Letterman: The Last Giant of Late Night is essential reading for anyone who grew up on or was influenced by the former weatherman from Indiana and his Stupid Pet Tricks, Monkey Cam, and Larry "Bud" Melman. One performer exploring the tropes and format of late night tv is comedian Ike Ufomadu, currently in residence at Joe's Pub with his show, Nightcap. Dale welcomes Ike to talk about his personal relationship to giants like Carson, Paar, and Sajak. We'll also explore the international perspective on the host position with podcasting superstar and all-around amazing comedian, Maeve Higgins. Maeve's show Maeve In America is a timely and hilarious glimpse into immigration, comedy, and living in New York. Plus, thrill to the sounds of the magical theremin as played by the brilliant Cornelius Loy. Below are some video and audio clips of our guests so you can get to know them in advance of the big night.
But first, here's the info you'll need to attend:
Deep Night Live with Jason Zinoman, Maeve Higgins, and Ike Ufomadu.
With music on the theremin by Cornelius Loy
Wednesday, May 10th, 8pm Show/Doors at 7pm
The Slipper Room, 167 Orchard Street between Stanton and Rivington St
Tickets $10 in advance/$12 at the door $25 VIP Seating Available
http://www.slipperroom.com/event/1408668-guest-event-deep-night-dale-new-york/
AND NOW, SOME CLIPS!
First up, Jason Zinoman recently sat down with fellow podcaster, and someone who has turned down Dale plenty of times, Marc Maron on his popular program, WTF. This was a double-bill with Hank Azaria, who is also very funny, but skip ahead to Jason's bit and you'll hear about his life, and a little bit about his long-standing fascination with the Late Night with David Letterman program. Marc's interview with Jason starts around the 30 min mark.

Maybe you've seen her on Inside Amy Schumer, or a live version of the hit podcast Star Talk with Eugene Mirman and Neil deGrasse Tyson, or performing stand up around the world at festivals and comedy events. She's a global phenomenon. So many people have compared Dale to Garrison Keillor over the years, that it seems only fitting to include a video clip of Maeve on the Keillor-less Prairie Home Companion. It's like late night tv for older people. In that it happens on a Saturday or Sunday afternoon, right before supper.

Ike Ufomadu has been reinterpreting and reinventing the late night format for the last few years. He's been in residence at Joe's Pub with Ike at Night, his take on a late night broadcast. On this episode, Ike discusses his thoughts on Letterman retiring, and has some fun imagining a replacement.

And because who doesn't love a shirtless theremin player, here's Cornelius Loy making music out of energy waves. This show has it all, folks!