Who Will Join Dale Live in the Deep Night 2/22?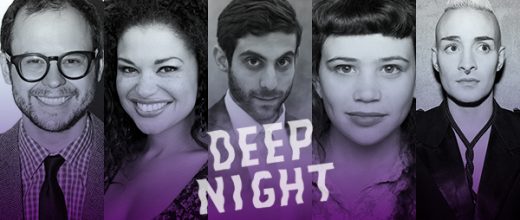 Friends! Love and fear are in the air, which must mean that it's time for another visit to the DEEP NIGHT! Finish those Valentine's candies and unwrap an evening of bliss with our talented guests on Wednesday, February 22nd at 8pm at the Lower East Side's infamous house of ill repute, The Slipper Room. Dale's talking to a wonderful panel of terrific individuals including comedian Michelle Buteau (VH1); writer Daniel Kibblesmith (The Late Show with Stephen Colbert); mentalist Vinny DePonto (Drama Desk Award Nominee); and a conjured visit from comedian Sandy Honig (Three Busy Debras). With ethereal music from theremin master, Cornelius Loy! This show is a killer, and every seat is a good one. Tickets are $10/12 and better if you get em in advance!
Below you'll find some info about each of Dale's Deep Night guests!
But first, here's the info you'll need to attend:
Deep Night Live with Michelle Buteau, Daniel Kibblesmith, Vinny DePonto, & Sandy Honig
With music by Cornelius Loy
Wednesday, February 22nd, 8pm Show/Doors at 7pm
The Slipper Room, 167 Orchard Street between Stanton and Rivington St
Tickets $10 in advance/$12 at the door $25 VIP Seating Available
http://www.slipperroom.com/event/1408666-guest-event-deep-night-dale-new-york/
Michelle Buteau is a fabulous host and comedian. Maybe you've seen her on VH1 or Fox? Well here she is on Comedy Central doing a half hour. Do you enjoy the beach?
Daniel Kibblesmith is a comedian and writer who's had a series of amazing, unreal jobs. His current stint is as a writer for The Late Show With Stephen Colbert, where he gets to create things like this. Which is not so bad.

A peak behind the curtain with mentalist Vinny DePonto as he prepares for an evening of mystery.

Vinny DePonto . A Magician Prepares from Jeremy White on Vimeo.
Sandy Honig is a rising star and while we can't get enough of her Ice Cram video, Dale wanted to share a recent stand up set as well.

Sandy Honig-HD from New American Comedy on Vimeo.