Dale Radio Season 8: The Trumpet Boys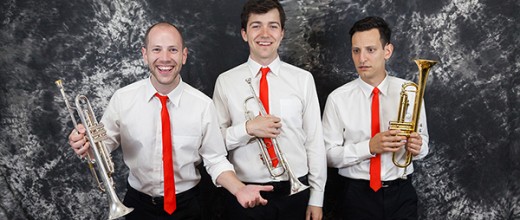 Dale appreciates the appreciation shown by his guests and musical-comedy giants, The Trumpet Boys. This episode goes a long way in establishing the background and personalities of one of today's hottest and most in-demand horn trios. Fresh off big shows in New York, San Francisco, and Los Angeles group members Mark, Ian, and Daniel sit down with Dale for a conversation about fame, comedy, pop music, and life in The Constitution State. The episode also includes some clips from The Trumpet Boys' recent appearance at Joe's Pub.
Podcast: Play in new window | Download (Duration: 57:31 — 33.1MB)
Subscribe: Apple Podcasts | Android | Google Play | Stitcher | RSS
The Trumpet Boys are Mark Vigeant, Ian Stroud, and Dan Fox and have a full blown website and everything. Follow their adventures in and out of Connecticut over at http://www.thetrumpetboys.com/ . Mark also has a new book out, entitled, Leaves of Grass I Trimmed With The Mower, a Collection of Dad Poems. Seek it out!